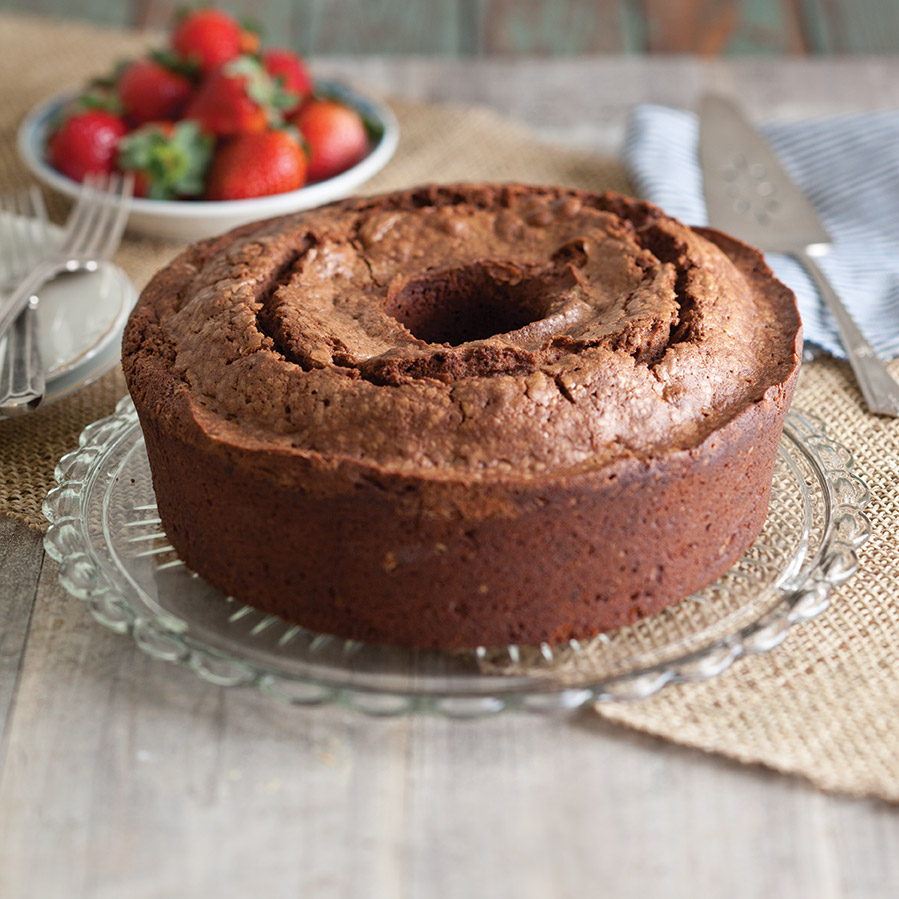 This cold-oven Chocolate Pound Cake has 
a perfect crunchy top and rich 
flavor.

Chocolate Pound Cake
Ingredients
3 tablespoons hot water
2 teaspoons espresso powder
1 cup unsalted butter, softened
3 cups granulated sugar
6 large eggs
1 1⁄2 teaspoons vanilla extract
3 cups all-purpose flour
1⁄2 cup unsweetened cocoa powder
1⁄2 teaspoon kosher salt
1⁄4 teaspoon baking powder
3⁄4 cup heavy whipping cream
1 1⁄2 cups semisweet chocolate chunks
Sweetened whipped cream, sliced fresh strawberries, to serve
Instructions
Spray a 9-inch tube pan with baking spray with flour.
In a small bowl, stir together 
3 tablespoons hot water and espresso powder. Let stand for 5 minutes. In a large bowl, beat butter and sugar with a mixer at medium speed until fluffy, 3 to 4 minutes, stopping to scrape sides of bowl. Add eggs, one at a time, beating well after each addition. Beat in vanilla.
In a medium bowl, whisk together flour, cocoa, salt, and baking powder. Gradually add flour mixture to butter mixture alternately with cream and espresso mixture, beginning and ending with flour mixture, beating just until combined after each addition. Stir in chocolate. Pour batter into prepared pan.
Place in a cold oven. Bake at 325° until a wooden pick inserted near center comes out clean, about 1 hour and 40 minutes. Let cool in pan for 15 minutes. Remove from pan, and let cool completely on a wire rack. Serve with whipped cream and strawberries, if desired.
 Find more great recipes like this one in Taste of the South's January/February 2017 issue!