9 Folks You Should Meet
1 IRA WALLACE
Ira Wallace loves eating good food, so it's no surprise that gardening has been part of her life since her early days growing up in Florida. Today she lives and works at Acorn Community Farm near Mineral, Virginia, where the Southern Exposure Seed Exchange works to catalog and save the heirloom, open-pollinated seeds of the American South. Along the way she has written a book, The Timber Press Guide to Vegetable Gardening in the Southeast, to teach us how to grow vegetables at home. She also organized the annual Heritage Harvest Festival at Thomas Jefferson's home, Monticello, to introduce heirloom varieties of the South's favorite veggies. One busy lady, indeed!
2 MICHELLE WEAVER
Known by her staff as "Mama," Michelle Weaver is an icon of South Carolina's bourgeoning food scene. As executive chef of the Charleston Grill, Michelle continues to garner praise for her diverse menu that celebrates Southern ingredients in four unique, international flavor profiles—a nod to her community's proud history as a port city and her insatiable culinary creativity.
3 ROBERT ST. JOHN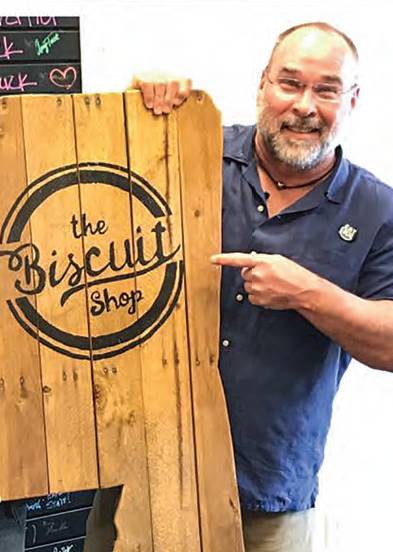 "Mississippi is a very diverse state," according to restaurateur Robert St. John. "It makes for a real interesting gumbo." After three successful collaborations with his best friend, Mississippi artist Wyatt Waters, the pair decided to write a fourth book about the food and people of their home state.
The book, A Mississippi Palate, will come out this October, along with a six-episode television series on Mississippi Public Television.
4 GRAISON GILl
As the owner and head baker at Bellegarde Bakery in New Orleans, Louisiana, Graison Gill knows his bread. He also knows his flour—because he makes it himself. Graison sources grain directly from regional farmers, has it milled in-house, and uses it in each loaf he bakes. Whether it's heading to local restaurants or straight to your dinner table, every loaf features a crunchy crust, open crumb, and rich flavor that can only come from freshly ground flour. Just be sure to plan (and call or email) ahead—this commercial shop bakes to order.
5 ERIKA COUNCIL
Raised by generations of Southern cooks, blogger Erika Council makes true soul food. Her blog, Southern Soufflé, takes all the memories of family meals around the kitchen table and brings them to life. Her recipes are full of heart, using time-honored techniques and ingredients; reading each post is like having a conversation with a friend. Southern Soufflé is a reminder that food is more than just something to eat. It's what happens when we gather around the table that makes Southern food matter.
6 MATTHEW MCClURE
Arkansas native Matthew McClure packs the flavors of his home state in each bite at The Hive in Bentonville. A blissfully long growing season fuels his local ingredient-driven menu and inspires his culinary creativity to run wild with twists on Southern classics. Putting out dishes like crispy chicken livers with spicy buttermilk dip, it's no wonder he's a four-time James Beard nominee.
7 ISAAC MORTON
The gift of a classic Griswold skillet set Isaac Morton on a quest to create the perfect cast-iron pan. He sought the ultra-smooth surface of heirloom skillets with the thicker walls of more modern designs. Now selling his evenly balanced, beautifully smooth pans under the Smithey Ironware name, Isaac's concept has become quite the striking skillet. And he's a pretty awesome guy, to boot.
8 ASHA GOMEZ
Whether penning a James Beard-nominated cookbook or creating a series of online cooking videos, Asha Gomez is constantly catching our eye. A native of Kerala, India, who now resides in Atlanta, she's made her mark on the food world by blending the flavors of her two homes in perfect harmony. From Kerala fried chicken to cardamom cornbread, she's out to show the world that her two souths aren't so different after all.
9 WALTER BUNDY
No chef takes Virginia cuisine more seriously than Walter Bundy does at Shagbark, his restaurant in Richmond. "This place is entirely Virginia," he says, from the communal table, made from a 150-year-old shagbark hickory tree, to the paintings by Virginia artists that grace the walls. The food, he says, is how everyone should be cooking—what's fresh and seasonal from local farmers, foragers, and fishermen—cooked with love and heart.
11 Places to Eat Down South
No one boasts better food than the South, and these 11 spots prove it!
1 BUXTON HALL BARBECUE
Pitmaster Elliott Moss had a dream when opening Buxton Hall: to keep the tradition of Eastern Carolina-style barbecue alive. Starting the night before, he and his team smoke whole hogs from Vandele Farms over a live, wood-fueled fire and infuse them with flavor using a vinegar mopping sauce, a Moss family recipe. Calling themselves the evangelicals of Eastern-style barbecue, the team at Buxton Hall reveres the Appalachian philosophy of using every part of the pig, letting their greens simmer under the cooking pork to soak up all the drippings.
2 OXBOW BAKERY
Mile-high meringue and Southern heritage collide in the ultimate pies at this bakery in Old Town Palestine, Texas. Owned and operated by mother and son team Becky and David Wolfe, Oxbow Bakery offers more than a dozen delectable flavors, ranging from pecan praline cream to coconut meringue. Strawberry pie, a seasonal specialty, is so popular that the bakery is often sold out before they even open.
3 THE ARK
Back in the 1920s, The Ark was a reclaimed barge-turned-speakeasy floating in the Coosa River, where the tamest thing for sale was all the catfish you could eat for 60 cents. Several fires and locations later, the dive lives on in Riverside, Alabama, and so does its famous catfish, fried crisp and piled high in all its humble glory.
4 OLIBEA
When we're passing through Knoxville, Tennessee, we can't resist a stop at this Old City breakfast spot. The thought of their OliBea Chicken Biscuit with whipped sorghum butter and chow chow and Tennessee Benedict with local ham and smashed potatoes has us drooling before we even get off the interstate. Don't forget a side of bacon!
5 TATO-NUT DONUTS
Legendary is too small a word to describe the glaze-enrobed blessings born in the kitchen of this quaint yellow doughnut shop in Ocean Springs, Mississippi. Some say it's the potato flour that makes the difference; we think it's the love that owners Theresa and David Mohler stir into every glorious donut. Go early, and order the cinnamon-laced "Persians"—you'll never be the same.
6 CITY HOUSE
Since opening its doors in Nashville, Tennessee, in 2007, City House has been bridging the gap between down-home Southern and Italian cuisine. Chef Tandy Wilson, a James Beard award winner, and pastry chef Rebekah Turshen continue to push the envelope, creating innovative dishes using local ingredients. On the top of our list: the sweet potato skillet cake with salt and pepper meringue.
7 KERMIT'S OUTLAW KITCHEN
Chef Mitch McAmey is making Tupelo, Mississippi, a food destination at Kermit's Outlaw Kitchen, where he and his team dish up top-notch fare in a totally unpretentious way. Courtesy of their butcher shop, Neon Pig, their hand-cut $35 ribeye arrives in all its glory, next to a roll of self-serve paper towels—it's a place that's primed to surprise you in the best possible way.
8 BUTCHERTOWN GROCERY
Bobby Benjamin, chef/owner of Butchertown Grocery in Louisville, Kentucky, had worked in fine dining restaurants for 10 years when the recession forced him to take a different look at cooking. When he opened his own restaurant in 2015, he envisioned a more casual place where diners could enjoy an approachable, plant-focused menu in a relaxed atmosphere. "I want to cook for everybody," he says. "We find the best ingredients and prepare them in the best way." The result: "I'm having more fun cooking now than I have ever had in my life," he says.
9 BREAD & BUTTER
At this micro-batch bakery in Chattanooga, Tennessee, time is the secret ingredient. A long, slow rise adds deep flavor to their breads, such as the Cheesy Grits Loaf, Bacon Baguette, or the seed-studded Sonrisa Whole Wheat boule. Though its doors only opened in late 2016, Bread & Butter is already breaking the mold. Using as many locally sourced ingredients as possible, and favoring quality over quantity, this is one bakeshop worth the detour.
10 ROEGELS BARBECUE COMPANY
Located in the Tanglewood suburb of Houston, Texas, Roegels has become a mecca for barbecue aficionados. Pitmaster Russell and his wife Misty Roegels are producing some of the very best barbecue in eastern Texas, like their pastrami-style brisket, served on Thursdays. On most Fridays, they serve pastrami-style beef ribs, and as Russell says, "There's no better piece of meat out there."
11 PIE BAR
It all started with apple pie for Lauren Bolden. She was just a preteen when she pulled her first fruit-filled miracle from the oven, but that ignited the passion that would later lead to Pie Bar—Woodstock, Georgia's personal, flaky heaven. Lauren and her husband, Cody, now prepare pie for the masses, taking on the classics, but adding their own little twists. Bourbon Chocolate Pecan Pie? Yes, please.
In honor of sending our much-anticipated 2018 Taste 50 list off to press, we're throwing it back to the best of our 2017 list. From great folks to good eats and everything in between, we love to share all that the South has to offer. So make sure to add these gems to your must-go list, and keep an eye out for the 2018 list in our upcoming July/August issue.
7 Southern Places Your Should Experience
1 SIMMONS-WRIGHT GENERAL STORE
Owned by the same family since it opened in 1884 in Kewanee, Mississippi, this general store is a time capsule of Southern culture. Still a working store (they sell hoop cheese, local sorghum, and essential farm tools), they also sell antiques such as vintage cast iron. Do yourself a favor and stop by for lunch or breakfast, then wander the creaking plank floors while you wait for your homestyle Southern cooking. It's an experience you'll never forget.
2 SEQUATCHIE COVE FARM & CREAMERY
Less than a half hour drive from Chattanooga, Tennessee, Sequatchie Cove Farm is the perfect Saturday trip for lovers of lush, rolling pastures—and delicious cheese. Get a look at this private working farm, visit the trading post, and taste some of the award-winning cheeses from the Sequatchie Cove Creamery, a handcrafted family operation nestled in the center of this 300-acre farmstead. Fresh cheese and fresh air? Count us in.
3 GREEK-OWNED MEAT-AND-THREES
In Birmingham, Alabama, the immigrant tradition of the last century is alive and well at Johnny's Restaurant, Niki's West, and Ted's Restaurant—three Southern-style meat-and-threes with a definite Greek twist. With menu items such as Keftedes (Greek meatballs) at Johnny's in Homewood to Greek-style snapper at Niki's West, descendants of the city's original Greek immigrants have found the balance between the South's passion for slow-cooked vegetables and its adventurous palate.
4 CHATTOOGA BELLE FARM
U-pick orchards dot the South, inviting travelers to fill buckets with summer fresh fruit, but few are as enchanting as Chattooga Belle Farm in the South Carolina Upcountry. Ed and Kitty Land transformed a forgotten apple orchard into a place you could spend all day enjoying, from plucking ripe peaches and blackberries to watching barn kittens fraternize with the free-roaming chickens. With its own bistro and whiskey distillery, it's the perfect place to spend a summer afternoon.
5 BORDEN'S ICE CREAM SHOPPE
Step through the doors of Borden's Ice Cream Shoppe in Lafayette, Louisiana, and you'll feel like you've traveled back in time. Claim a stool at the 1950s-style soda fountain counter, and order an old-fashioned frappe or a skyscraper banana split. Originally opened in 1940, it was one of more than 100 Borden shops across the South. Now, it's the only one left.
6 NORTH CAROLINA PIG PICKIN'
In the 19th century, pigs were the most practical way to feed large groups in hard times. Starting the day with killing the pig and then waiting for it to roast soon became a social event, and the pig pickin' was born. Today, you can find a pig pickin' happening somewhere in the South nearly every weekend for any occasion—from graduations to a "just because" potluck.
7 HILLBILLY HOTDOGS
Made up of a 12×16-foot wooden building, two renovated school buses, and even a functioning wedding chapel, Hillbilly Hotdogs in Lesage, West Virginia, is overflowing with personality, courtesy of enthusiastic owners Sonny and Sharie Knight. Whipping up hot dogs of all kinds for the last 17 years, this is one hot dog stand you have to see to believe.
Planning on checking out some of these hotspots? Be sure to tag us for a chance to be featured on our social media accounts.

12 Southern Goods You Should Try

Each distinctly delicious and inherently Southern, these locally made goods deserve a tip of the hat.
This ginger- and citrus-scented soda is a Kentucky classic. Introduced in 1926, this 91-year-old recipe hasn't changed since its inception. Generations later, Fielding Rogers, the company's CEO and great-great grandson of Ale-8-One creator G.L. Wainscott, hand-mixes each batch every few weeks, using a handwritten secret formula. It's rumored to be the unofficial beverage of anyone climbing Kentucky's Red River Gorge, but we'll pop a top off this classic any time.
Made by the Guenther brothers—Mark, Pete, and Eddie—in Monterey, Tennessee, Muddy Pond Sorghum is a sweetener from another century. This old-fashioned syrup is still made using traditional methods and horse and mule power. It's great on biscuits, for replacing sugar in sweets such as pecan pie, or as a marinade for steaks.
Using her great-grandmother's recipe, owner Sheridan Hinton makes these delightfully crunchy dilled onions out of Mobile, Alabama. This endlessly versatile condiment is not only great straight from the jar; we love them tossed with steamed Gulf shrimp and a drizzle of olive oil for a scrumptious version of a quick-pickled shrimp.
"We simply make stark-ravingly good liqueurs," says Linda Losey, founder of Bloomery Sweetshine, a line of 10 all-natural, farm-fresh liqueurs distilled in Charles Town, West Virginia. They're great alone (sip the Limoncello ice cold, straight from the freezer), or stirred into your favorite baked goods. The Black Walnut liqueur makes a flavorful substitute for vanilla in your favorite Bundt cake recipe.
Originally opened in 1933 under the name Cook's Confections, this candy shop eventually found its way into the hands of Leah Johnson in 1944, who transformed it into the New Orleans landmark it is today. Their palm-sized pralines are still made the way Leah first made them—with real butter and fresh pecans stirred together in a traditional copper pot. If you can bring yourself to not gobble them up, they're fantastic crumbled and sprinkled over pies and crisps as a topping.
Growing up in families of carpenters, Shane Schoenith and Wayne Bedenbender have a shared love of the beauty and character of wood. With help from Shane's wife Ashley, they channeled that love and opened their Georgia-based woodworking company, Woodkith, where lumber that would otherwise be chopped for burning is transformed into pieces that tell a story with every knot and crack. Shane and Wayne use wood from all over the South, and even take trees from their clients' yards to make boards that will be shared over tables full of friends and passed down through generations.
From blue grits and Johnny Cake mix to classic yellow cornmeal, Geechie Boy Mill is giving this cornerstone of Southern cuisine the respect it deserves. Forget the bland grits lining supermarket shelves—this Edisto Island, South Carolina, company is using heirloom corn varieties and antique gristmills to give their offerings a quality, stone-ground flavor we can't get enough of.
How do you give a olive oil a Southern twist? Nine hours in a cold smoker should do the trick! That's how Charleston-based Holy Smoke transforms extra-virgin olive oil into their signature hickory-smoked olive oil. With a flavor like liquid bacon, it's perfect in vinaigrettes or spooned over savory dishes. Holy Smoke also offers smoked honey—as delicious drizzled on fried chicken as it is stirred into a cocktail.
Southern Craft Creamery started making ice cream as a thank-you to their family-run dairy farm workers and friends in Marianna, Florida, and no flavor shines like their Buttermilk Ice Cream. Each spoonful is richly reminiscent of an ice-cold glass of buttermilk, but with an extra hint of sugary sweetness to perfectly complement the creamy, buttery taste.
The best eggs come from pasture-raised chickens, but a steady supply wasn't always easy to find before Vital Farms came along. Founded by husband-and-wife team Matt O'Hayer and Catherine Stewart, this Texas company set out to produce ethical food on a large scale. They have enlisted more than 100 family-owned farms to produce eggs according to their guidelines. It's the antithesis of factory-farmed, caged-hen production facilities. And the cartons are pretty cool, too.
This small-batch jam and preserves company in Austin, Texas, turns out flavor-packed preserves, jams, and seasonings starring fruits and vegetables grown all over the Lone Star state. During the summer months, our favorite is the Bourbon Brown Sugar Peach Preserves—try them on ice cream or paired with cheese. The next time you're in Austin, be on the lookout—owner Stephanie McClenny has a jam and biscuit shop in the works that's sure to be a delicious destination.
Chef Sam Suchoff has taken his love of the whole hog to mouthwatering new levels by joining forces with curemaster Rufus Brown of Johnston County Hams in Smithfield, North Carolina, to cure these exquisite hams. Made from hogs sustainably raised on open pastures by local farmers and then aged 12 to 18 months, Lady Edison's country-style hams have a rich flavor just waiting to be sandwiched in a buttermilk biscuit.
5 Southern Tastes You Have To Try
1 GROUPER CHEEKS

Want to eat like a local in the Florida Keys? Drop into Hogfish Bar & Grill on Stock Island, a true locals' spot, where people who fish eat fish. We recommend the grouper cheeks, tender nuggets of fish that have been dipped in buttermilk and dredged in seasoned flour, then fried to a crispy delight. Owner Bobby Mongelli says they taste sweet like scallops.
2 SALT BREAD
Drop by Burke's Bakery in Danville, Kentucky, for a loaf of traditional salt-rising bread, a yeast-less bread that was popular in the Appalachian region more than 100 years ago. Fifth generation owner Joedy Burke learned the process through his apprenticeship to his father and grandfather. Surprisingly tangy in flavor, this Southern treat calls for a road trip.
3 CULTURED BUTTER
Wrapped in wax paper and stamped with those convenient tablespoon measurements, store-bought butter is a staple in Southern cooking. But we can do better! Look for cultured butter, which has a higher fat content and live cultures, resulting in a rich yet subtle hazelnut flavor. It's butter like your great-grandmother used to make. To find out how to make it at home, see our step-by-step guide at tasteofthesouthmagazine.com.
4 MISSISSIPPI TAMALES
Exactly how tamales made their way into the heart of the Mississippi Delta is a bit of a mystery. Most historians agree they came through Mexico—via migrating laborers or soldiers returning from the Mexican-American War, while others maintain tamales date back to the region's original Native American tribes. While the mystery lives on, one thing remains true: tamales are as common on Delta dinner plates as fried chicken.
5 NOT-SO-CAJUN CRAWFISH
In the 1970s, thousands of Vietnamese families immigrated to the Gulf coast, where they fell in love with local seafood boils. They soon blended the traditional Cajun crawfish boil with the flavors of South Asian cuisine—ginger, garlic, and lemongrass. And while it's hard to beat a good old-fashioned crawfish boil, there's something magical about their aromatic take on mudbugs. They're served drenched in garlic butter, so you're definitely going to want to pinch the tail and suck the head.
6 Events You Should Attend
1 PENSACOLA SEAFOOD FESTIVAL
Each year when the summer days dwindle, locals and tourists flock to historic downtown Pensacola, Florida, to send the season out with a bang. Held at the end of September, the annual Pensacola Seafood Festival offers three days of admission-free musical acts, local goods, cooking demonstrations, and, of course, the most delicious seafood the Gulf has to offer. Gearing up for its 40th year, this festival is one you don't want to miss.
2 INTERNATIONAL BISCUIT FESTIVAL
You won't want to miss the International Biscuit Festival in Knoxville, Tennessee, each May. Stroll down Biscuit Boulevard and sample signature biscuit creations from local restaurants, cheer on your favorite in the Biscuit Baking Contest, and vie for the pageant title of Miss or Mr. Biscuit.
3 NATIONAL PEANUT FESTIVAL
Most of the nation's peanuts are grown within a 100-mile radius of Dothan, Alabama, earning it the nickname, "The Peanut Capital of the World." And each November the people of this south Alabama town celebrate that notion at the National Peanut Festival. From chainsaw sculptures to a parade complete with peanut queens, there's plenty to see and do at this nine-day festival, honoring the humble peanut.
4 DELTA SUPPER CLUB
Can you imagine sharing a meal prepared by a renowned Southern chef such as Edward Lee, at a restaurant that pops up for one day (and one day only), in an airplane hangar, a cotton gin, or a blues museum in the Mississippi Delta? That's the idea behind the Delta Supper Club, the brainchild of David Crews, Kimme Hargrove, and Stewart Robinson. Members gather five times a year for extravagant nine-course meals staged at historic venues in the heart of the Delta. But act fast—tickets to each event sell like hotcakes.
5 BRADLEY COUNTY PINK TOMATO FESTIVAL
It all started with a tomato more than 60 years ago. Farmers and merchants in Warren, Arkansas, were looking for a way to promote the easy-to-ship tomatoes grown locally, so they decided to organize a festival. More than half a century later, it has become a June tradition with something for everyone—from food, arts and crafts, a carnival, beauty pageants, and a parade to a street dance and an all-tomato luncheon.
6 RED BEANS ROAD SHOW
For Pableaux Johnson, Monday nights in New Orleans always consist of two staples: red beans and rice with cornbread, and good company. He's taking his tradition on the road with his Red Beans Road Show. This pop-up dinner series pairs Pableaux with a host chef in various cities, and serves up his Louisiana classic combo, a chef's choice starter and dessert, and plenty of good conversation. By the end of the night, there's not a stranger left at the table.